Security on Campuses
A university campus is like a lively mini-city with a constant stream of students and instructors. Besides the main university building it includes many other buildings and structures distributed throughout the grounds: dormitories, libraries, sports complexes and athletic fields, laboratories, administrative and maintenance buildings, cafeterias, gazebos etc. Each building on campus has its own peculiarities, which means it has different security requirements.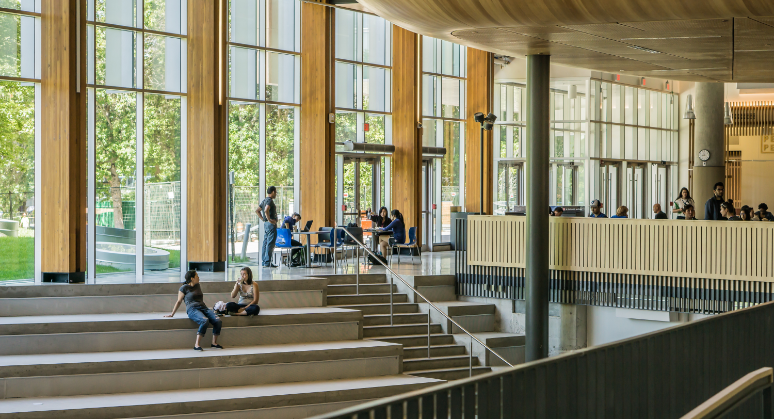 For administrative and educational buildings, these are primarily the security of property, ensuring human safety, and maintaining discipline.
For dormitories they are maintaining proper conduct and order, monitoring discipline, and excluding unauthorized persons.
For cafes and dining facilities, they are quality control of ingredients and dishes, monitoring workflows with food products and areas for their unloading.
For parking lots, it is prevention of car thefts and break-ins.
For squares and outlying territories, it is prevention of interpersonal conflicts in secluded areas and criminal acts such as the use or sale of prohibited substances.
A properly designed video surveillance system for a campus accounts for all the peculiarities of this complex site and can significantly help in ensuring the safety of students, instructors, visitors, and campus infrastructure.
Thefts, fights, and other incidents do not just cause material damage to an educational institution; they also have a negative effect on its reputation. That is why it is extremely important to promptly detect criminal acts on campus. If an unpleasant situation has already occurred, the video surveillance system will help investigate it and punish the guilty parties.
Security on campus is important both for students and for their parents, who will have peace of mind knowing that, even when far from home, their child is in a safe environment.
Problems Solved by a Security System Based on AxxonSoft Software on University Campuses
Ensuring security at night
Since students live on campus, sometimes they are active when it's dark: students may just walk around or go between classrooms and buildings or through the parking lot, and newer students may have trouble finding their way around a big campus. For students to be comfortable going for a walk in the dark, they need to feel that they are under the protection of the security system.
Detecting bottlenecks on campus
Integration of a video surveillance system with a heat map makes it possible to track changes in student traffic depending on time of day, weather, and other factors. For example, in the beginning or end of the academic day a traffic jam forms at the building entrance, while during the lunch break one forms at the entrance to the cafeteria. Identifying bottlenecks and high-traffic areas will make it possible to better plan student evacuation routes in the event of an emergency.
Ensuring the safety and peace of mind of teachers
A security system with an integrated access control system guarantees that only authorized persons are on campus. Thus, teachers no longer need to examine the faces of students and track unfamiliar people. Furthermore, if a conflict arises, such as slander or accusations from students, footage from video surveillance cameras provide incontrovertible proof for resolving the situation.
Ensuring campus security during off hours
On weekends or during breaks, on holidays or at other times when campuses are closed, they often become targets for attacks from vandals or criminals who might be after expensive technical or laboratory equipment. An integrated security system with video surveillance, perimeter control, alarms and emergency notification will make it possible to prevent theft and property damage.
Instant searching in footage
Video analytics with the capability to search for people based on photos or descriptions will help to quickly find the person in question in the video footage. And searching for vehicle license plates will make it possible to quickly find a car of interest.
Quick emergency response
If a bomb threat, shooting, evacuation or other emergency arises, remotely controlled video surveillance cameras can help identify people leaving the building, as well as students or teachers who are still inside, and send them emergency response teams. Cameras can also track people (for example, attackers) when they move from one space to another.
Designing a Video Surveillance System for Campuses
A campus is a large and multifaceted site. Its security system may include hundreds of video cameras, data from which will flow to a single monitoring center; therefore, when designing a system, it is necessary to provide for high-capacity storage systems or the possibility of connecting the system to a cloud data storage. Searching for specific people, cars or situations in a huge volume of accumulated video archives will be quick and convenient with such AxxonSoft tools as forensic search by criteria and TimeCompressor technology, which combines moving objects recorded at various moments into a single video clip while retaining the original speed of movement.
Besides cameras, a large amount of specialized equipment must be installed for access control, fire protection and the operation of other integrated systems. Therefore, the installation of such a system shouldn't be entrusted to security service employees; this work should be performed by professionals with long experience in installing integrated video surveillance systems. Integrator companies that are certified AxxonSoft partners will easily handle tasks of any complexity. They will determine the optimal placement of video cameras, select the necessary equipment, design a surveillance system, install it, and test it before launch. Contact us to find an integrator company in your region.
Need more details on an industry-specific solution?
Book a personilized demo to discover the features and benefits of AxxonSoft intelligent video management software that will help you to bring value to your business faster.