In2solution Ltd.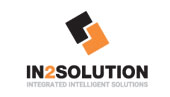 Anschrift : 11-13, Perikleous Str., GR 153 44 Athens, Greece
Telefon : +30 210 60000 61
Web :in2solution.gr

In2solution is one of most successful security systems integrators based in Athens, serving customers all over Greece. We have implemented advanced projects using AxxonSoft products and have gained valuable experience. Appreciation of Axxon analytics, has motivated us to build a video monitoring station, which is an exclusive service for our premium customers.
Video Guard by In2solution, is the first ever built video monitoring station based solely on Axxon Next video management software, providing excellent alarm notifications management and fewer false alarms to our operators, while providing increased security to our customers.
Our purpose is to achieve state of the art protection eliminating any risk for customer assets at a reasonable cost exceeding customers' expectations. In2solution's vision is to create a safer world for everyone.