KREMAK EOOD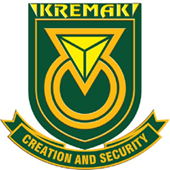 Anschrift : Bulgaria, Stara Zagora, 6 Novozagorsko shose Str.
Telefon : +35942690459
+359 888 753 944 (mob.)
0700 69 000
+359 886 380 866 (National Emergency Hotline)
Fax : +359 42 690 469
Web :www.kremak.com

KREMAK EOOD is a security company, with 26 years of experience in the security services market in Bulgaria and abroad. We guard some of the largest companies in the country - manufacturing companies, banks, energy and electricity distribution companies, sites of strategic importance for the national security, etc.
KREMAK EOOD has its own independent technical infrastructure and communications throughout the country through parallel modern telecommunication systems and controls.
The Department of engineering, design, construction and maintenance of facilities employs highly qualified experts with higher engineering education and technical expertise. It makes use of the full line of most sophisticated equipment in this field of work by doing the following:
Centralized Monitoring Center built with the most advanced technologies, used to coordinate the work of the guarded sites in a continuous non-stop operation;
Communications and data transfer networks and systems;
All kinds of technical security systems on sites under centralized control - alarm systems, CCTV systems, fire alarm and access control systems.
Our representatives are available 24 hours a day, 7 days a week, 365 days a year to ensure your complete security and peace of mind.