AxxonSoft Turns 18
11/17/2021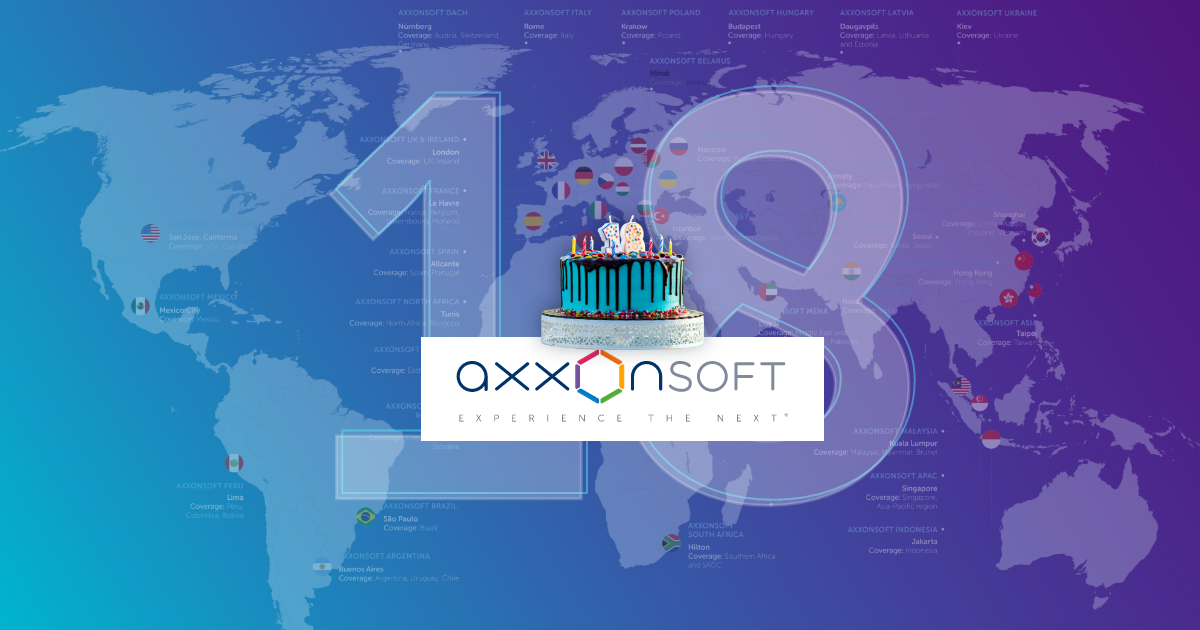 On November 17, AxxonSoft celebrates its eighteenth birthday. Since 2003, the company has developed from a small team of like-minded people to a leading player in the global security software market.
AxxonSoft gained the initial momentum for rapid growth due to the development of the Motion Wavelet codec that demonstrated record figures in terms of video compression and resource consumption ratio. This video compression algorithm paved the way for building cost-effective digital video surveillance systems, which at that time were primarily based on analog cameras connected to a computer via video capture cards.
The company's first software product to go out to the market was Intellect. It realized the principle of a universal integration platform for centralized management of all kinds of physical security systems. The first alarm and access control systems were integrated in 2004, and support for the first 10 models of Axis IP cameras was implemented that year. In 2005, industry-specific solutions POS Intellect, Auto Intellect, ATM Intellect, and the facial recognition system Face Intellect were introduced. To date, AxxonSoft software supports more than 100 physical security systems and 10,000 models of IP devices.
In 2006, the development of the Axxon Next intelligent video management software started. It was originally intended to work with increasingly popular IP cameras. The first version of the product featuring smart search capabilities was released in 2011, and now Axxon Next is the main driver of the company's global growth.
Since 2016, AxxonSoft has been focusing on the development of neural network video analytics. The company offers both ready-to-use AI detectors and neural network training for project requirements, which enables handling out-of-standard tasks. Another area AxxonSoft is deeply engaged in is cloud services. The company is constantly developing the AxxonNet cloud-managed service and the Axxon VSaaS Datacenter software platform for cloud surveillance providers.
AxxonSoft began the global expansion in 2007, and now its worldwide branch network comprises 50 offices, with a staff of more than 600 people, about 300 of whom are engineers. AxxonSoft products are sold in more than 140 countries through an extensive partner network that consists mostly of security system integrators. Hundreds of thousands of systems for the public and commercial sectors employing over 2.5 million video cameras are based on AxxonSoft software. Along with commercial activity, the company conducts non-profit educational projects in the fields of software development and mathematics.