Security in Schools, Colleges, and Universities
Schools perform not only educational functions, but formative ones as well. They are an important and essential part of the lives of children and adolescents.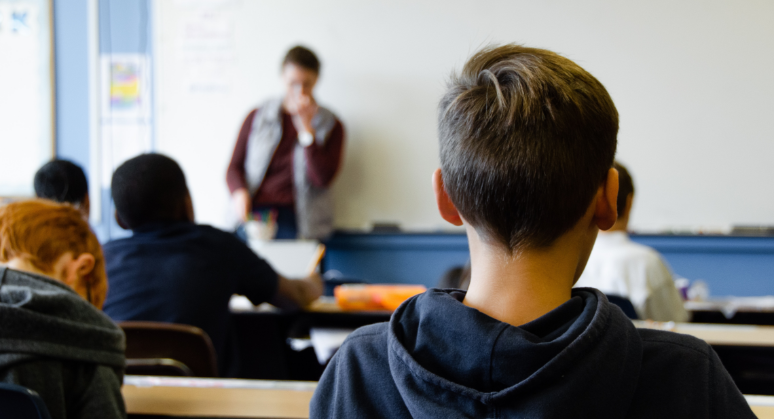 Children's personalities are formed during their school years, which is why a certain amount of aggression and rebellion is typical of this age; however, it is necessary to control this so it doesn't get out of hand. As a rule, conflict situations involve three parties: students, teachers, and parents. Besides its main function of providing security on the grounds, a video surveillance system in a school can be a tool for preventing and resolving disputes between the parties. The very fact of video monitoring helps to improve discipline in the school and forces adolescents with criminal intentions to think about the consequences of their actions. Extortion, threats, bullying and violence toward any student, even if it takes place in the farthest and most out-of-the-way corners of the school, will be recorded by video surveillance cameras and will not go unpunished. In addition, security systems integrated with various sensors help prevent emergencies (fires, acts of terrorism, shootings). If an emergency still arises, the response will be much faster if there is a video surveillance system.
Problems Solved by a Security System Based on AxxonSoft Software in Schools, Colleges, and Universities
Access to the school building and grounds
Integration of the video surveillance system with access control makes it possible to identify all visitors to the school and determine whether they are unauthorized persons.
Tardiness and attendance
An access control system identifies students and documents their entries and exits from the school building. Reports can be created based on this information.
Documentation and analysis of disputes
Any conflict situation in a camera's field of view can be thoroughly analyzed to determine who is at fault. In such situations the use of cameras with a built-in microphone is especially effective. Recording with sound can help establish the whole picture of the conflict situation and determine its cause, which can be either the improper behavior of the student or a teacher overreaching his or her authority or being prejudiced against the student.
Analysis of student behavior
If suspicious activities are detected, a member of the school's security service can point a PTZ camera at the students in real time and find out what they are doing, for example, playing or fighting. The use of a video surveillance system with neural network analytics makes it possible to determine a person's possible intentions based on his or her pose. For example, arms stretched forward can be an indication that a person is holding a weapon. Prompt detection of such potentially dangerous situations makes it possible to eliminate the threat as soon as possible and prevent a tragedy.
Exams and lessons
During lessons — assessment of the teachers' level of competency. During exams — ensuring the transparency of the exam, resolving controversies, and preventing violations on the part of teachers and students.
Adjacent territories
Ensuring the safety of students in school stadiums and athletic fields, control of the entry of unauthorized persons into the school grounds, and monitoring of student misconduct: fights, smoking, and alcohol or drug use.
Safety of school property
Suppression of vandalism and damage to school property, as well as other actions causing material damage.
Designing a Security System for Schools, Colleges, and Universities
Main Entrance
Equipping a school with video cameras starts with the entry zone. As a rule, standard outdoor cylindrical or vandalproof dome cameras with infrared lighting are installed at the entrance; these provide a high-quality nighttime image. It is also possible to integrate the video surveillance system with thermal cameras to detect visitors with elevated body temperature.
Grounds
For surveillance of the school grounds at a distance of over 30 meters, it makes sense to use a high-speed PTZ camera with infrared lighting so that the security service can point it at a suspicious area needing close attention. Special attention should be paid to blind zones, as students often choose them for fights. Ideally, video surveillance should cover the entire perimeter of the school.
AxxonSoft tools make it possible to indicate zones in the grounds of a school where someone's presence could cause suspicion. When motion is detected in such a zone (loitering), the school's security service will get a notification and can personally see to the situation.
Classrooms and Laboratories
In classrooms and laboratories, indoor dome cameras with a prime lens are usually installed so that the board and the teacher's desk are in the camera's field of view. In chemistry labs, workshops, and other hazardous spaces, as well as in classrooms for exams, it is advisable to also have cameras aimed at the students' desks. For video surveillance in classrooms, it is highly recommended to have cameras with audio recording.
AxxonSoft's neural network video analytics make it possible to automatically detect potentially dangerous situations based on analysis of a person's pose and instantly notify the security service about them. For example, a person lying down might need emergency medical assistance, while a person with his or her arms stretched forward might be holding a weapon.
Corridors and Stairways
Conflicts and accidents are possible not only in classrooms and on the school grounds, but also in student lounges, corridors, stairways, and cafeterias. As in classrooms, dome cameras are used there, as well as box cameras or mini-cameras.
Teachers' Offices
Video surveillance is necessary in the principal's office and the teachers' lounge to ensure the integrity of official documentation and to prevent corruption and controversies between school employees or involving parents.
Footage from all video surveillance cameras in a school should be sharp so that people's faces can be clearly recognized. Furthermore, video footage should be kept no less than one month so that scenes can be analyzed after the fact. AxxonSoft offers a wide selection of tools for quickly searching for the desired moments and people in a large archive of video footage from a multitude of cameras.
Need more details on an industry-specific solution?
Book a personilized demo to discover the features and benefits of AxxonSoft intelligent video management software that will help you to bring value to your business faster.